What's Next op het gebied van leren en ontwikkelen!?
Opleiding Learning Design @ Work
We willen het leren op de werkplek zó ontwerpen dat het onze collega's op de werkvloer direct helpt om beter te worden in hun vak. Zo ontwikkelt elke professional zich én wordt de gehele organisatie beter. Om dat te bereiken is het nodig om onze didactische aanpak, onze rol in de organisatie en ons learning ecosysteem anders vorm te geven.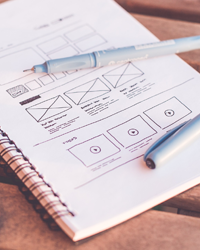 Opleiding Onderwijskundig e-Learning Ontwerper
Wat is e-Learning? e-Learning is dé nieuwe manier van leren en heeft een vaste plaats veroverd in bedrijven, zorginstellingen, scholen en overheidsorganisaties. Als opleidingsprofessional is e-Learning ontwerpen steeds meer een onderdeel van uw taak. Maar hoe zorgt u ervoor dat e-learning bijdraagt aan goed en effectiever leren?
Na het volgen van de opleiding onderwijskundig e-Learning ontwerper bent u een goede gesprekspartner voor directies, collega's en externe partijen, zoals uitgevers en aanbieders van tools. Ook leert u een e-Learning leerbeleving ontwerpen en het huidige e-Learning aanbod beter te maken.
Lees meer over de opleiding Onderwijskundig e-Learning Ontwerper
You and your colleagues are invited to Learn, Explore, Benchmark and Engage in Learning 2018. Together, with over 2.000 learning colleagues from around the globe, we will focus on the changing, evolving and increasingly disruptive shifts in the world of workplace and workforce learning.
Over the past few decades, Masie's Learning event have had the unique honor of hosting and curating an annual gathering of global learning colleagues who are intrigued by and engaged in exploring the future of Workplace Learning.
The Themes of Learning  are curated from dialogues with Chief Learning Officers and Learning Leaders of major corporations and government agencies. Together, we will explore: Learning Personalization, Compliance & Learning, Gamification & Engagement, Video, MOOCs, Mobile & Learning, Leadership Shifts, Learning Strategies, and more. Learning 2018 will be filled with hundreds of activity choices for you and your colleagues. Engagement is our design model! We hope you will join us in this exciting journey.